Discover more from Notes from Eva
A newsletter about writing, art, and living more creatively.
Over 1,000 subscribers
How To Get Ready to Submit (and 30+ opportunities)
A newsletter about writing, art and living more creatively
Hi friends,

This is the last newsletter of the year! Thanks to all who have sent me messages that make me realize I'm not alone in all my ramblings about making things!! 

Here's something cool that happened recently, which I hope is encouraging: I applied for a merit scholarship for a series of online writing courses — and while I didn't get it, I did get offered seats in a couple of classes! I'll be embarking on a memoir scene writing class this month, for four weeks. It feels nice to have this structure, and during my birthday month, too. That's neither here nor there but, you know, Sagittarius season is the best.

Before the weekly class, I got to take a course on submitting your work to literary magazines. As someone who submits semi-often, it was a good refresher. And I also learned more about how other people submit — and how we all have a lot of the same fears and anxieties about getting our work out there.

Sheree L. Greer, our teacher, gave us some great insights. While they're geared towards writers, I think they're also important for makers of all disciplines to keep in mind: 
Always be writing, always be submitting: Sheree reminded us that while it takes time to hear back about opportunities, we can at least control our own process. So, use that time to write — and to submit some more.

If you're not getting rejections, you're not aiming high enough: A good reminder, which a mentor shared with Sheree.

Approach each submission with the right energy. Greer told us: "Always submit from a place of empowerment."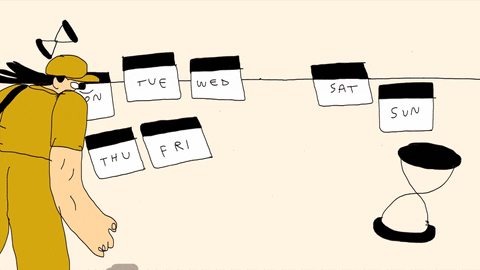 gif by CIANG

If you're looking for tips on hitting "submit" for that residency application, this past issue of Notes from Eva with Emi Nietfeld has info for you. Among the many insights Emi shared, this stuck with me: 

"Every organization is trying to maximize their impact. Part of that is picking out the people that they can specifically help the most. If it's just a random residency to you as an artist, you're probably going to be less engaged in the future, less likely to give back and connect with alums, than if you're like, "This was the residency that gave me a new outlook on my work."

I also really appreciated a recent Poets & Writers article by Seth Graves (in the November/December issue) in which he discusses the submission process for literary magazines. Graves talks about how digital submissions, the pandemic and other changes made for a slower response time for literary magazines in the last few years. And how, at the end of the day, rejections or acceptances aren't about a piece being "good" or "bad," but instead about what they can take for publication each year, and whether it's a "fit" for their magazine.

          

                                                          giphy

This insight especially struck me:

"If a journal accepts simultaneous submissions—sending the same work to many publications at the same time—take the editors up on it, suggests Pierce... Of course, simultaneously submitting does contribute to that pileup of rejection letters, but writers can view that pile as a source of pride—proof of resiliency and perseverance."  
I'll see you on the flip side, next year! I'm taking December off from the newsletter and looking forward to returning to it in January with fresh energy. I hope you can also get some rest!

Hit REPLY to share your thoughts on what questions/creative anxieties you want to discuss in 2023!
 
In my recent work: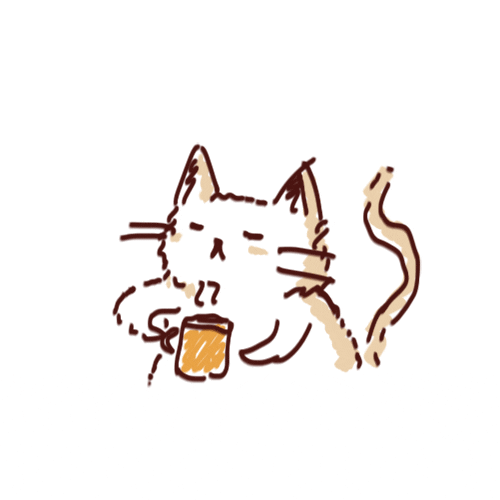 gif by hoppip

Want to treat me to   🍷 or ☕ to fuel this newsletter?
Venmo: @Eva-Recinos // Cash App: $evaeva33

OR forward this to a friend who might love it!
Opportunities of the Month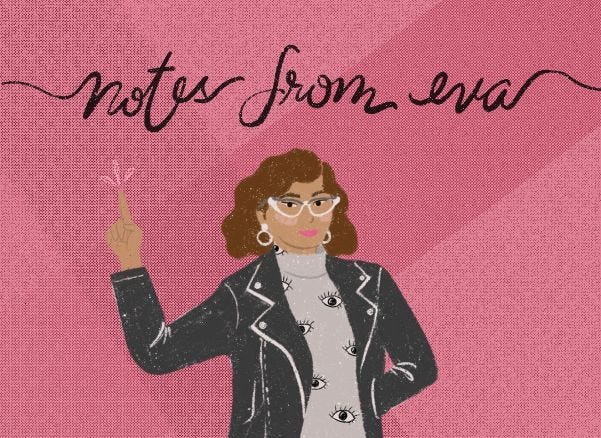 illustration by Melanie Y. Lee
LEARN

🎨💸 An Artist's Guide to
Last Minute Year-End Giving
Nov 9
More info here

📚 The St. Martin's Publishing Group
Virtual Conference for
Marginalized Voices 2022
Nov 17
More info here


📚 To Self-Publish or
Not to Self-Publish
Nov 17
More info here


✍🏼 Food, Love, and Literature:
Asian American Longings
Dec 3
More info here


APPLY

  ✍🏼🎨💻 Adobe Creative Residency Community Fund
(for creatives in video, photography, graphic design + more)
Rolling applications
More info here

 🎨 Women's Studio Workshop Artist's Book Residency Grant
Applications due Nov 15
More info here

 💭 Amant Studio & Research
Residency Program in NY
Applications due Nov 15
More info here

  📸 2023 Baxter St. at the Camera Club
of New York Residency Program
Applications due Nov 17
More info here

  ✍🏼📚 The Japan Foundation Support Program for Translation and Publication
Applications due Nov 18
More info here

  🎨 Lucid Art Residency Program 2023
Applications due Nov 22
More info here

  🎨 Smack Mellon Artist Studio Program
Applications due Nov 23
More info here

✍🏼 Writing Between the Vines Retreat
Applications due Nov 28
More info here

  🎨 2023 Walter Feldman Fellowship (for New England-based artists)
Applications due Nov 30
More info here

🎶🩰 Mid Atlantic Arts Grants
(for Performing Artists)
Applications due Nov 30
More info here

  🎨 Center for Craft
Teaching Artist Cohort
Applications due Nov 30
More info here

  ✍🏼 💭 Design Writing Fellowship
Applications due Dec 1
More info here

  ✍🏼 Andrews Forest Writing Residency
Applications due Dec 1
More info here

  ✍🏼🎧🎬 Mesa Refuge Residency
Applications due Dec 1
More info here

   💭 Black Metropolis Research Consortium Fellowship Program
Applications due Dec 3
More info here

  ✍🏼 2023 J. Anthony Lukas
Work-in-Progress Prize
(Columbia Journalism School)
Applications due Dec 8
More info here

  🎨 2023 Arts Fort Worth Emerging
Artist Residency Program
Applications due Dec 12
More info here

  💭 The David Prize
(for New Yorkers with projects
focused on the city)
Applications due Dec 12
More info here

  🎨✍🏼 Elizabeth Murray Artist Residency
(individual + family)
Applications due Dec 15
More info here


  ✍🏼 💭 The Ashby M. Lamore Fellowship 
Maryland Center for
History and Culture
Applications due Dec 31
More info here

✍🏼  Anna Rabinowitz Awards
(for poets collaborating with
artists of other disciplines)
Applications due Dec 31
More info here


  🎶 Art Omi Music Residency 
Applications due Jan 2
More info here

  🩰 Art Omi Dance Residency 
Applications due Jan 2
More info here

  ✍🏼🎨🎶📸 Yaddo Artist Residence 
Applications due Jan 5
More info here

  ✍🏼 James Merrill House
Writing Residency
Applications due Jan 9
More info here

  ✍🏼🎨🎬📸 Joshua Tree Highlands
Artist Residency
Applications due Jan 10
More info here

SUBMIT

  ✍🏼 Asymptote Korean Literature Feature
Submissions due Nov 14
More info here

  ✍🏼 Nightboat Books Poetry Prize
Submissions due Nov 15
More info here

  ✍🏼 Woodhall Press Connecticut
Literary Anthology
Submissions due Nov 15
More info here

✍🏼 Quill (Queer) Prose Award
Submissions due Nov 30
More info here

  🎨 Witness Magazine
Call for Cover Art
Submissions due Dec 1
More info here

  ✍🏼 Sillerman First Book Prize
for African Poets
Submissions due Dec 1
More info here

  ✍🏼 🎨🎬 Exposition Review Submissions
(Film, Comics, Poetry,
Stage & Screen, more)
Submissions due Dec 31
More info here